A personal giclée printing service – not just a print shop!
---
The giclée London team have been in the design, art and print industry for over 40 years. We offer our experience to clients producing giclée prints across the UK, Europe and worldwide
Working with and commissioning artists from our beginning, we know what artists like and their requirements for their giclée print service.
At Giclee London, we know that each artist is different. Producing fine art giclée prints, to some is a saleable item where the price is the important factor, and to others, it's their creation, so we respect that. We offer you a personalised approach to working together.

Quality giclée fine art printing services
---
Our reputation for high-quality giclée art prints is a result of our commitment to quality and value for money.
Our skilled team has many years of experience transforming fine art and photography into stunning giclée art prints.
---
Printing giclée fine art since 2002
---
We were one of the earliest studios of modern giclée printing in London and we use the latest techniques and technology to ensure you get the very best results every time.

---
It's all about the detail
---
Giclée art prints differ from traditionally printed images in that there are no discernible dots or screen patterns as are found in litho or silk screen reproduction.
Giclée printing uses a continuous ink feed that's controlled by RIP (raster image processor) software and cutting edge printing equipment.
This gives a result that's as true to the original as you can get – retaining all the detail and tonal qualities you see in the master copy.
---
We print from your files, or we can create files from your originals
---
At Giclée London we accept original artwork in many different forms, including digital files, transparencies and original paintings.
We can scan your original artwork. We use a state of the art Epson 1200 xl scanner with SilverFast software, the industry-standard when it comes to creating the best possible scans of artwork.

---
We are dedicated
---
Our team of dedicated experts start by providing a proof to ensure that your final giclée art prints will look how you'd expect.
---
Colour management and icc profiles
---
We use icc colour profiling to produce accurate results every time. We're meticulous when it comes to colour matching and light-fastness and we only use Canon Lucia UV pigmented inks in our giclée printing. We have a sample print tested to ensure quality at all times.

---
We only use the right manufacturers to provide our supplies
---
By using the best inks available, your giclée art prints will enjoy a life expectancy of 100+ years, and we never compromise on any of the materials used.
Although based in the capital, Giclée London accepts artwork from across the UK and beyond, and we'll be happy to discuss your giclée art prints with you.
Please take a moment and click through our site or visit our Contact page now to ask about our high-quality giclée printing in London.
---

5×1 metre London Panorama Memory artwork. Prints in widths of 1m, 2m, 3m and 5-metre sizes on Hahnemuhle PhotoRag 308gsm 100% cotton paper printed by Giclée London for The Stephen Wiltshire Gallery London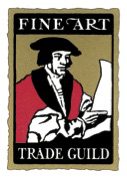 Giclee London are
Printer members of the Fine Art Trade Guild
Why not visit Stephen's website? He is a brilliant artist. We are not saying that because we produce his giclée prints, he gives great joy and hope to people suffering from things they think make them lesser people. His prints are cool too!